What Really Caused Grace Slick to Leave Jefferson Starship
Grace Slick is now 83 years old and telling it all. She is best known for being a part of Jefferson Airplane and its spinoff band Jefferson Starship who sang popular songs including "Miracles" and "Jane." While she was often known as the lead, things got dicey between her and the band after years of alcohol abuse. Now, fans are being told just what happened the night that Slick was kicked out of Jefferson Starship after some rough performances. By the late '70s, Slick had become an alcoholic.
In June of 1978, Jefferson Starship was playing some shows in Europe. They were set to headline the Sunset Festival in Germany but Slick got drunk and wouldn't perform. A fight broke out between Slick's ex and fellow bandmate Paul Kantner and her husband Skip Johnson. When the performance was canceled, fans were so upset that they burnt the stage down after stealing the band's equipment.
Two nights later, while still in Germany, Slick was drunk yet again. She agreed to perform but explained years later, "I decided to wear an 18th century milk maid's dress on stage. When I came downstairs, someone remarked that I looked like a 'cute little Swiss miss,' which really irked me. I went back upstairs, put on a Nazi uniform, got drunk and did a 'get back at you for the Second World War routine' for the show."
Of course, that didn't go over well. After fans rioted yet again, Kantner demanded that Slick leave the band. She later wrote in her autobiography that she wanted to leave the band and knew that she would never go through with it if she didn't pull off something so terrible that she had to be kicked out. Less than a week later, the band performed without her.
Eventually, Slick got sober and returned to the band in 1985. After a lawsuit, Kantner left the band and they became the band Starship for a while. "We Built This City" became one of their most famous songs, despite Slick's dislike of it. Now, current bandmates David Freiberg, Donny Baldwin, Chris Smith, Cathy Richardson, and Jude Gold perform as Jefferson Starship once again, at times reconnecting with Slick even though she is technically retired.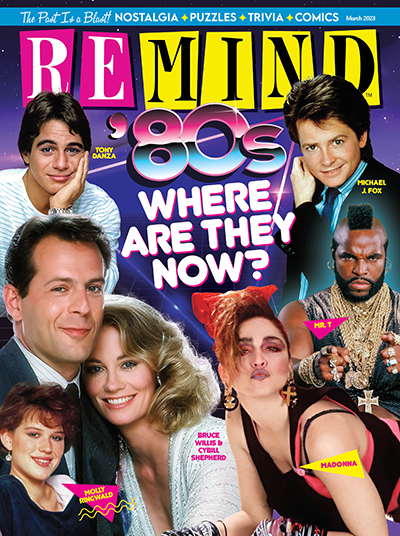 March 2023
Who can forget all the great TV shows, movies and music of the '80s? See what your favs are up to now!
Buy This Issue