Tommy Howell Takes Us 'Backstage' With Charlie Sheen, Cast of 'E.T.' & More
From teen heartthrob to songwriting storyteller, Tommy Howell (aka The Outsider's C. Thomas Howell) has masterfully blended a deeply personal and entertaining soundtrack in his new American Storyteller album. His "Hell of a Life" single immediately takes you back, remembering the movies and characters of days gone by that make you smile.
"Helped save an alien when I was just 13
Shot down a helicopter yellin' wolverines Recited Robert Frost staring at the sun Held my ground at the Devil's Den with an empty gun Smoked marijuana with Cheech and Chong Survived a plane crash in the Amazon Ann-Margret made love to me on "A Tiger's Tale" Spent a lifetime in prison hoping to make bail It's a hell of a life, the one that I'm livin''
Howell takes his songs and storytelling to the next level in his new Nashville show Backstage With Tommy Howell & Friends, where this weekend he welcomes his old friend Charlie Sheen. The two Hollywood icons plan to share stories from working in the movie industry, starting with when they first crossed paths making the 1980s blockbuster hit Red Dawn.
Here Howell shares a bit more on his exclusive shows and what he has planned.
Where did the idea for the Backstage With Tommy Howell Show start, and how long has it taken to get it going?
"I was talking with my manager, Sam Parker, about a year ago, and I was reminiscing about the old variety shows I used to watch like Johnny Cash and John Denver and Barbara Mandrell. They were always musically driven, upbeat and funny. They would have guests come in and do interviews and sketches. Having grown up in Hollywood and spending a great deal of time collecting my friends and people that I have worked with over the years, it just seemed like a great idea to present something like this in Nashville that I haven't seen done before. I wanted to tell my stories through music and friends and really bring fans "backstage" with us for an evening.
We put this idea together really not knowing what to expect, and the fuse was just lit. People have embraced it. It wasn't but 5 minutes and we were up and running, so nobody was more surprised than I was. Sam put this deal together very quickly, which I am very grateful for."
What's the vibe of the show? We know it's being billed as intimate storytelling with musical performances, but could you expand a bit on the rundown? Are you at a desk, Letterman-style?
The vibe I would say is upbeat but it's a little less formal than the David Letterman desk-type vibe. We'll open the show with a few songs (5-6) and then share some stories from some of the films and TV series I was a part of over the years. We'll reenact some scenes and choose some audience members to give them the opportunity to play a role and interact with us!
Expect a bunch of storytelling that goes way, way back. I'm really looking forward to sitting down with all of my guests and asking the questions about the old days that I have always wanted to know, as well as reliving memories through these incredible conversations we're going to have. This audience is going to see and hear what goes on behind the scenes in these people's lives, and you'll really feel like you are "backstage" with me and my buddies!
Your guest list is quite amazing — let's start with the E.T. cast reunion, which is set for Friday, June 2. How often do you talk to this group, and what's something you'll never forget about being in that film as such a young kid?
I do see these people and talk to them often. Dee Wallace is a dear friend of mine. Every once in a while, we'll get together and go to Comic Con and sit on a panel. It was a real pleasure to invite these guys to Nashville and have a damn good time. I can't wait to show clips at the show and talk all about them.
Shooting E.T. was such a spectacle. We had everything from tiny people to my buddy Matt, who was born without any legs and did a lot of the body work inside of the rubber E.T. suit as a young child. There were puppets and animatronics and effects and spaceships. It was probably the most covert and undercover project I've ever been a part of. I never got to read the script. Every day I was just handed a couple pages and was told to learn that sequence for the next day. They didn't want the script getting out. I've never been a part of that before. Steven Spielberg was incredible in general. He has real in-depth, amazing communication skills and was very noticeable on set. I am just so excited to bring Dee, Henry Thomas and Robert MacNaughton to Nashville and have them talk about how amazing the experience was to them! [That show is slated for Friday, June 2.]
Then you've got Charlie Sheen, Kevin Dillon and Adam Carolla — now that's going to be fun! What's your history like with these guys?
I've known the Sheen family since I was a young boy. I did The Outsiders with Charlie's brother, Emilio Estevez. And then I did Red Dawn (pictured above) with Charlie when I was 16. Then at 22, I did Gettysburg with their father, Martin Sheen. They were a second family to me growing up. Reaching out to Charlie was easy! Through Charlie's hard times, we were all there with him and prayed to God he would find help. I'm happy to say he's been sober for 5 years and rededicated himself to being a father, and [he's] open to talking about his struggles and helping others who are currently struggling. I was very pleased when he agreed to come out to Nashville. This gives us an opportunity to get real personal. He is also one of the most intelligent people I know. [That show is slated for Friday, May 19.]
I've never worked with Kevin, but I did work with his brother Matt. But I do know Kevin personally. We're old golf buddies! [The TV series and movie] Entourage was such a big hit, and by bringing out Kevin Dillon and Kevin Connolly, we are going to get some insider information of what it was like to work on that show and share some stories about working with Mark Wahlberg as your boss and being a part of the Entourage phenomenon. Both Kevins have a podcast, and they are quite funny, so I think they can handle the crowd quite well.  [That show is slated for Friday, May 26.]
Adam Carolla kind of happened on a whim! We were out on a whim, and we did a show at Whisky a Go Go [in West Hollywood], and I also did a podcast with Adam. We mentioned the event and how we were going to do a Red Dawn reunion, which Adam was ecstatic about. He knows every line, front to back. He insisted he come so we invited him out as well! He also said he could bring his close friend, John Popper. That guy can blow a harmonica like nobody! Being able to put this deal together is so exciting! [That show is slated for Friday, June 9.]
Your new music on American Storyteller is amazing. "Hell of a Life" just makes us smile, laugh, and sit back and enjoy the memories. Was that the first song you wrote for Storyteller? Could you speak to how the songwriting process began for this album? Did the lyrics just flood out of you?
The first song I actually wrote was "Whiskey Demon." It started out as a fun game to see how many whiskey brands I could name in a song. Then it turned out to be a very therapeutic experience for me.
When I started out as a songwriting storyteller, all I wanted to do was bring my past experiences to life through music and share them with the world. And that's exactly what I did and what I'm doing. I used my 40 years in Hollywood and memories from those times as inspiration for these songs. My process was really just reliving and reminiscing the life I remember it to be and putting those memories into lyrics.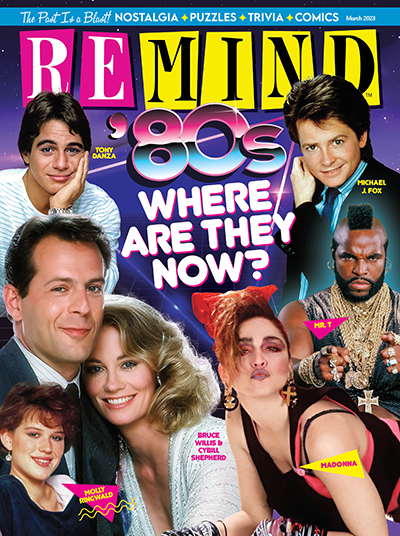 March 2023
Who can forget all the great TV shows, movies and music of the '80s? See what your favs are up to now!
Buy This Issue