Nostalgic Stars Come Together For 'Book Club: The Next Chapter'
The sequel to the 2018 film Book Club, titled Book Club: The Next Chapter premieres in theaters today, March 12, 2023. The star-studded cast includes Jane Fonda, Candice Bergen, Diane Keaton, and Mary Steenburgen. The first film followed a group of friends who create a book club and read Fifty Shades of Grey (think about your mom reading the steamy novel… cringy, funny, and perhaps eye-opening). This time around, the ladies are taking their book club international and going on a girls' trip to Italy. Of course, things go wrong and hilarity ensues.
With so many nostalgic stars in the cast, it made us wonder, what else have these leading ladies been up to? Let's take a closer look at the lives and careers of each one and don't forget to check out the trailer for Book Club: The Next Chapter below.
Candice Bergen (77)
Bergen is best known for her series Murphy Brown, which first ran in the '80s but saw a revival in 2018. The first Book Club film came out that same year. While the Murphy Brown revival only lasted one additional season, it didn't slow her down as she appeared in the 2020 film Let Them All Talk, made an appearance in The Conners in 2021, and starred in 2022's As They Made Us. Recently, Bergen has been promoting the new Book Club film on her Instagram page as well as sharing lots of throwback photos including one of her best friend and fellow actress Ali MacGraw.
Jane Fonda (85)
Fonda may be the oldest woman on this list, but she may be the most active. She just wrapped up her popular Netflix series Grace & Frankie, also starring Lily Tomlin, and appeared in two big movies this year. Not only that, she regularly protests and is a political activist for climate change. Fonda starred in 80 for Brady with Tomlin, Sally Field, Rita Moreno, and of course, Tom Brady. Previously, she appeared in Moving On and Luck last year.
Diane Keaton (77)
Keaton is often in the news discussing her dating life, or lack thereof mostly because her career keeps her so busy. The Annie Hall star played pop star Justin Beiber's grandmother in the music video for "Ghost" and most recently starred in the films Mack & Rita and Maybe I Do. According to IMDb, she has five upcoming projects including a movie about three older women who drink a whiskey that makes them younger.
Mary Steenburgen (70)
Steenburgen seems to play a sweet mom a lot and some of her recent roles are no exception. She played a mother in Zoey's Extraordinary Playlist and in the 2021 film Nightmare Alley. In 2022, she appeared in her real-life husband Ted Danson's show Mr. Mayor. Her next project is a Western film called Last Train to Fortune, which is currently in post-production. She also writes songs and plays the accordion in her spare time.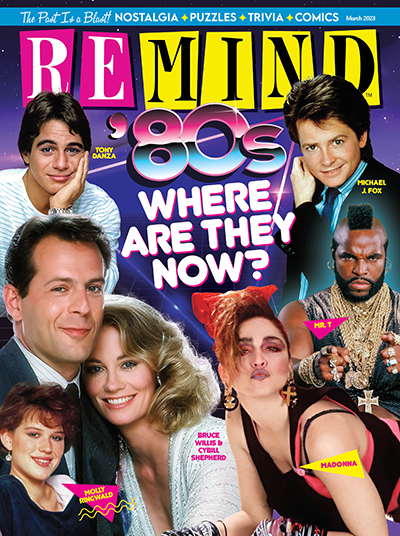 March 2023
Who can forget all the great TV shows, movies and music of the '80s? See what your favs are up to now!
Buy This Issue