Calling All '80s Fans! Meet Up With These Legends
OK you '80s fans, how fast can you name the artist behind these hits?
"Everybody Have Fun Tonight!"
"Round and Round"
"Even the Nights Are Better"
"Hold on Loosely"
"Only In My Dreams"
"Tainted Love"
"Ghostbusters"
"For Your Eyes Only"
"Don't Rock the Boat"
"Wild, Wild West"
For true fans of the decade that probably took you a full 5 seconds.
Now imagine the full set lists as some of the greatest artists of the '80s converge to jam out with their fans (potentially you!!) during the next "The 80s Cruise" set to sail February 29-March 7, 2024.
The cruise will include performances by 38 Special, Soft Cell, Air Supply, Debbie Gibson, Sebastian Bach, Stephen Pearcy of Ratt, Ray Parker Jr., Sheena Easton, Wang Chung, Midnight Star, Animotion, Real Life, Escape Club, Farrington and Mann – original members of When in Rome UK, Marky Ramone's Blitzkrieg, Jessie's Girl and more. Plus, joining the fun are original MTV VJs Mark Goodman, Alan Hunter and Downtown Julie Brown, along with Sirius XM DJs Larry the Duck and Lori Majewski.
If you're not familiar with this epic party, the 2024 cruise marks the eighth year of this tradition where a community of passionate 80s fans have come together to enjoy music, fashion, games, trivia and amazing new and old friendships as part of these unique voyages. (pictured below is Bret Michaels bringing nothing but a good time on the 2023 cruise)
We caught up with the guy who helps put the fun into these cruises — Joey Fairchild, production director for Entertainment Cruise Productions — who gave us a bit on the behind the scenes of these cruises.
The inaugural cruise started in 2016 with a lineup that included artists like Huey Lewis in the News, Richard Marx, Starship, Kool & the Gang and Tiffany. It was an immediate success.
"I started doing cruises in 2005 and we had done all kinds of different themes, everything from jazz to country to R&B. We even did sock hop/malt shop memories that featured '50s and '60s music," Fairchild shares. "We didn't want this to just be an 80s music festival. We really wanted it to be an 80s experience, to really celebrate the entire decade and everything that went with that from not just the music, but fashion, iconic stuff like the video game era, certain TV and movies and just all that." They had no idea the level of fandom that it would create.
Fairchild said it really becomes all about the community of cruisers with so many repeat guests. Just as it was back in high school if you are new to the cruise expect to be part of the freshman group, if it's year two you would be a sophomore and so on. As for the cruisers who've been with them from the start – yep, they are the alumni. "Once you hit year four, we do a big graduation ceremony. But it's not that you're graduating from the cruise, you're graduating to the next level to become alumni, where we have special things for those people that only alumni get." Fairchild explains.
What does it take to pull a cruise like this together?
You Need a Big Boat!
With every band you see, there could be 10 to 20 people coming with every band. So, it's a lot of people that come just with the band. But there's also a ton of activities happening on this massive vessel from aerobics and dodge ball to multiple pools, concert and dance halls, shops, restaurants and more.
Attract Bands Who Want to Be on the Cruise!
There are some bands that just don't want to get on a ship or be surrounded with their fans for an entire week, these bands do and are OK getting up close and personal with their fans. (pictured below is Tone Loc)
You Could Be Neighbors With Your Favorite Rocker!
There're no special VIP areas or anything like that for bands or guests. Band members are in normal cabins. So, you could be staying next to Debbie Gibson, or you could be staying next to Steven Pearcy depending on where your cabin is. And they're walking around, they're doing stuff and just hanging out with everyone else. (The rock band Autograph made the 2023 cruise)
The Bands Are Involved in More Than Just Performing
Of course, the artists are going to be performing concerts, but they are also having fun hosting other interactive events. For example, Debbie Gibson currently is floating around the idea doing a choreography class where she'll teach some of the dance moves from the electric youth music video. In the past some celebs have done cooking classes, wine tastings and/or trivia sessions. They kind of get involved with everything, and it's a way for them to show and talk about their other hobbies. (pictured below is Gerald Casale of Devo instructing a Sip it Good tasting and Morris Day commenting on champagne)
Jam Sessions and Dueling Pianos
Common to the cruise are jam sessions and dueling piano bar matchups. "A lot of times these guys will come and almost take over that part where suddenly, a couple band members from this band come, and then this person comes up and it's different. You can't see it anywhere else," Fairchild adds.
Nightly Theme Nights
Every night is a different theme night, but everything is 80s. One of the themes is always a prom and that is themed too (Purple Proms, Punk Rock Prom, Prince themed, you name it). The biggest theme night of the entire cruise, however, is the pop icon night, where you can come dressed as anything that was iconic from Madonna or Michael Jackson to Pac-Man or a Rubik's Cubes. It's also OK if you just prefer to sit back and enjoy the spectacle and just wear your 80s cruise T-shirt.
Q&A Panels
MTV VJs are known to do behind the scenes panels with the artists, where guests have a chance to ask questions. Pictured below are the band members of Vixen on the 2023 cruise.)
We're told the cruise is booking fast, so if this is for you – check it out now!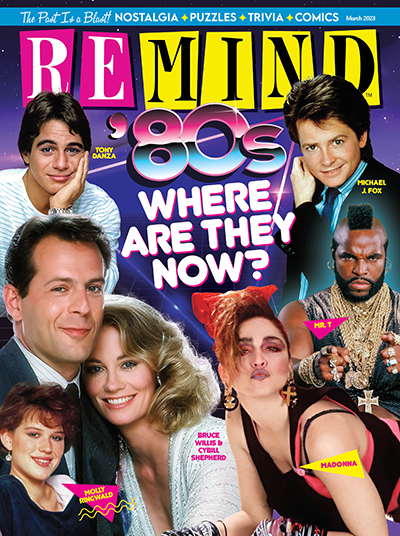 March 2023
Who can forget all the great TV shows, movies and music of the '80s? See what your favs are up to now!
Buy This Issue