The Late Eddie Van Halen's Famed Guitar Sells for Almost $4 Million
The guitar that Eddie Van Halen played in the memorable music video for Van Halen's "Hot for Teacher" just sold at an auction for a whopping $3,932,000. The minimum bid for the guitar, custom-made for Van Halen by Paul Unkert of Kramer Guitars, was $1.8 million and was valued between $2 and $3 million. Sotheby's held the auction, which garnered a lot of attention, especially since Van Halen passed away after suffering from a stroke in 2020.
The guitar is red with a black and white abstract design and came with original Warner Brothers tags, the case, and the straight jacket and gloves Van Halen wore in the iconic music video. Sotheby's also noted that the guitar features a "poplar double-cut 'Strat' style body, the top routed for a single double-coil Seymour Duncan humbucker pickup, volume control, Floyd Rose bridge with whammy bar, unvarnished 22 fret maple bolt-on neck (stamped 'UNK' on heel) with Kramer sticker on headstock," for those with guitar knowledge.
Eddie Van Halen's guitar sells for almost $4 million
"Hot for Teacher" became one of the band's most popular hits, from their sixth studio album 1984. In 2009, VH1 named the song the 36th best hard rock song of all time and it has long been ranked as one of the top 10 Van Halen songs.
The band had been rocking until Van Halen's death, with his son Wolfgang joining the band in its later years. After it was confirmed that Van Halen passed away in October 2020, the band called it quits, with Wolfgang sharing, "You can't have Van Halen without Eddie Van Halen." Van Halen had been a part of the band since its inception in 1973 along with his brother drummer Alex Van Halen, vocalist David Lee Roth, and bassist/vocalist Michael Anthony.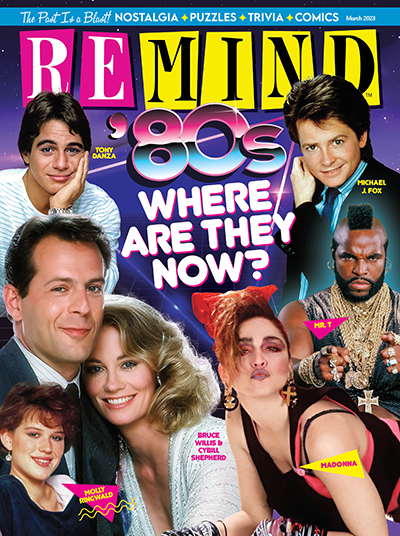 March 2023
Who can forget all the great TV shows, movies and music of the '80s? See what your favs are up to now!
Buy This Issue