New Documentary Explores the Life of Little Richard & True Meaning of "Tutti Frutti"
The 1955 bop "Tutti Frutti" secured Little Richard as one of the greats, with a catchy melody and captivating performances. It wasn't always a hit, though. The earliest versions of the song were so X-rated that the radio wouldn't play them, so Little Richard ended up rewriting the tune. Now, a new documentary called Little Richard: I Am Everything explores the life and career of Little Richard, starting with that iconic song.
The world may have lost the man known to many as the King of Rock 'n' Roll when Elvis Presley died in 1977, but when singer/songwriter Richard Wayne Penniman — better known as Little Richard — passed away in his home from causes related to bone cancer in 2020, it lost the man rightfully considered the Architect of Rock 'n' Roll.
That architect also helped shape the direction of R&B, as well as later genres like soul and funk, and he made his design known early on with his first major hit record — the iconic and irresistibly catchy hit rocker "Tutti Frutti," which Little Richard co-wrote with Dorothy LaBostrie. With its highly energetic beat and wild lyrics, "Tutti Frutti" signaled that a new era in music was here, and not only in terms of sound. With his famously colorful attire and personality, Little Richard also developed an over-the-top visual onstage presence that later rock 'n' rollers would adopt and develop in their own ways. Though "Tutti Frutti" has been covered by many artists, Little Richard's origination of it was so groundbreaking that the tune has been added to the Library of Congress' National Recording Registry due to its historical significance at ushering in the rock age.
That song was only part of the reason Little Richard was inducted into the Rock & Roll and Songwriters Halls of Fame, as he added more hits in the new era he helped create. In 1956, he co-wrote and performed "Long Tall Sally." Over just the next couple of years after that, his remarkable voice and charisma helped him continue to find the charts with recordings of songs he co-wrote, and songs written by others, like "Slippin' and Slidin'" (1956), "The Girl Can't Help It" (1956), "Lucille" (1957), "Jenny, Jenny" (1957), "Good Golly, Miss Molly" (1958) and others.
While around this time Elvis was finding fame with white music audiences for his performances of rock/R&B tunes popularized by Black artists, Little Richard became one of the first actual Black artists to crossover with those audiences, and he helped break the color line in music. His live performances were so wildly entertaining that they at least momentarily transcended race and sometimes resulted in the integration of Black and white audience members. Notable white performers like Presley, Buddy Holly, and the Beatles — who knew greatness when they saw and heard it — also covered Little Richard songs, and in 1969, Elvis spoke the truth when the King told the Architect that he was "the greatest."
The documentary is now showing in theaters and available to rent on several streaming services including Amazon Prime and Vudu.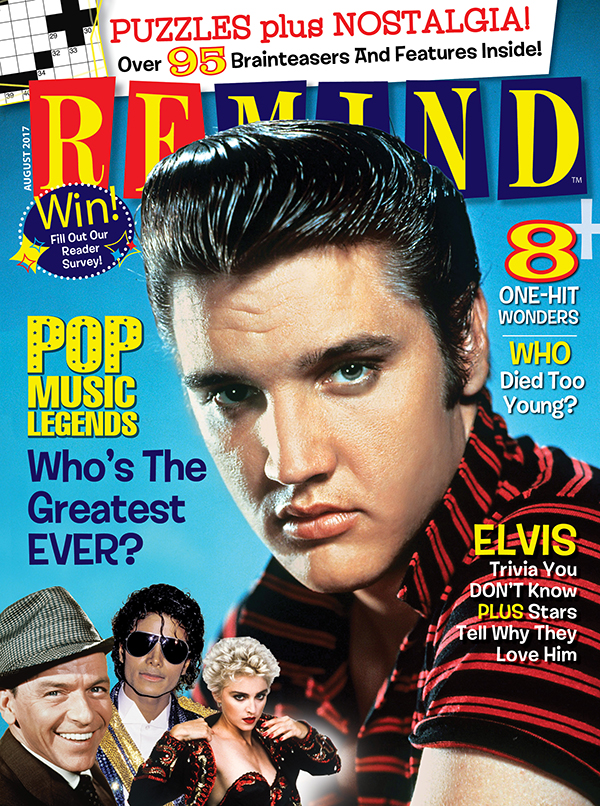 August 2017
Dedicated to the sights, sounds and stories of the golden age of pop.
Buy This Issue