Anthony Michael Hall Turns 55 and is Preparing to be a First-Time Dad
He's been a nerd, a jock, and a hunter of Michael Myers, now he's gearing up to become a father. Actor Anthony Michael Hall turns 55 today (April 14) just as he's preparing to be a first-time father and reminiscing about his days in the Brat Pack. Hall became famous in the '80s as he appeared in some of the most popular films of that decade including The Breakfast Club and Sixteen Candles.
Last year, Hall explained why it was so bittersweet to catapult to that level of fame as a teenager. He shared, "The idea of being recognized, it's awkward for adults. But it's magnified at that age when you're already dealing with all kinds of insecurities. It was very challenging. I would joke, but it's true, that it took me probably 20 years to process being 15, because I had experienced so much in between. I'm certainly grateful for it, and I thank God for having strong, great parents."
Brat Pack star Anthony Michael Hall turns 55
Many of the Brat Pack members went on to appear in some iconic films later in life and Hall is no exception. He appeared in the Tim Burton classic Edward Scissorhands, War Machine, The Dark Knight, and Halloween Kills. His most recent stint on TV was on The Goldbergs as the security guard Mr. Perott.
As Hall continues to act, he's also going to be a father this summer. In February, Hall and his 32-year-old wife Lucia Hall announced that they are expecting their first child together. He told PEOPLE, "Lucia and I were at home. She surprised me by revealing that she was pregnant with an at-home pregnancy test. We were kissing, hugging, and thanking God. We immediately started dancing and laughing in our bathroom to celebrate the great news."
The couple is expecting a baby boy who they plan to name Michael Anthony Hall the II. Hall was actually born Michael Anthony Hall but changed his name when joining the Screen Actor's Guild in 1976. The pair tied the knot in 2020. It seems a Happy Birthday and a Congratulations are in order for Hall this year! Now let's go over what we think are his top 5 films…
'National Lampoon's Vacation'
In one of Hall's first films, he plays Russell "Rusty" Griswold and does a great job acting alongside the great Chevy Chase. Vacation is one of the funniest road trip films of all time and many say that Hall is the best Rusty.
'Weird Science'
Weird Science was another Brat Pack-era film that never became as popular as the final two films on this list. Starring as a high school weirdo who tries to make a dream woman with his buddy, Hall is really funny in this one. The movie spawned a series by the same name in the '90s.
'War Machine'
We can't forget to highlight one of Hall's more recent films. He plays Major General Greg Pulver in his satirical war comedy and proves that he still has what it takes to make audiences laugh just like he did as a teen.
'Sixteen Candles'
Sixteen Candles was John Hughes' directorial debut and one of the first starring Hall and others like Molly Ringwald. He plays the geek, Farmer Ted, and has one of the most memorable scenes in the film. Can you remember it?
'The Breakfast Club'
Perhaps the most iconic Brat Pack film, Hall does an amazing job playing nerdy Brian Johnson in the movie about five students serving detention.
Bonus: 'Saturday Night Live'
Did you know that he was the youngest cast member to join Saturday Night Live? He was just 17 years old when he joined Season 11.
What's your favorite movie starring Anthony Michael Hall? Tell us in the comments!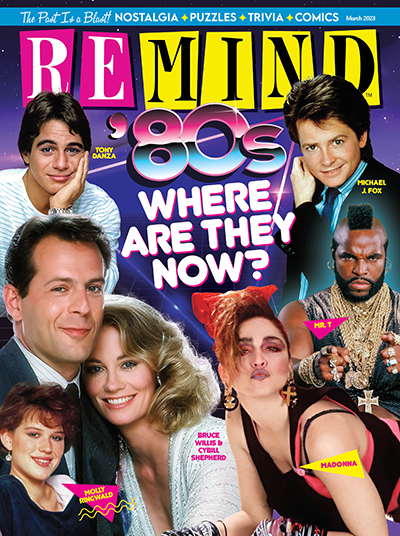 March 2023
Who can forget all the great TV shows, movies and music of the '80s? See what your favs are up to now!
Buy This Issue