Vivian Trimble, Founding Member of '90s Rock Band Luscious Jackson, Dies at 59
Vivian Trimble, one of the founding members of the '90s rock band Luscious Jackson, passed away at 59. Trimble was a singer and keyboardist in the all-girl band and her former bandmates confirmed her death in an Instagram post.
The remaining members Gabby Glaser, Jill Cunniff, and Kate Schellenbach wrote, "We are heartbroken to announce the passing of our beloved friend and band member Viv on Tuesday. She had been in treatment for cancer for several years and developed a complication on Monday. We were not expecting this. She was a great friend and a gifted musician and choreographer, but it was being a partner to David and a mother to Nate and Rebecca that gave her the greatest joy. We are devastated beyond words to lose our graceful sister."
Luscious Jackson announced the death of band member Vivian Trimble
View this post on Instagram
The band was named after '60s basketball player Lucious Jackson and was loosely tied with the Beastie Boys, who signed the band on their label, Grand Royal, in 1993. Their most popular hit came in 1996 with the song "Naked Eye," from the album Fever In Fever Out, which reached No. 36 on Billboard's Hot 100. Their songs were featured in iconic '90s films Clueless and Good Will Hunting.
View this post on Instagram
Trimble left Luscious Jackson in 1998. The remaining members continued without her for a few years before splitting up in 2000. They reunited in 2013 for two more albums, Magic Hour and Baby DJ. Trimble and Cunniff had their own side projected called Kostars and Trimble also played with the Breeders' Josephine Wiggs.
She is survived by her husband David, and their two children, Nathaniel and Rebecca.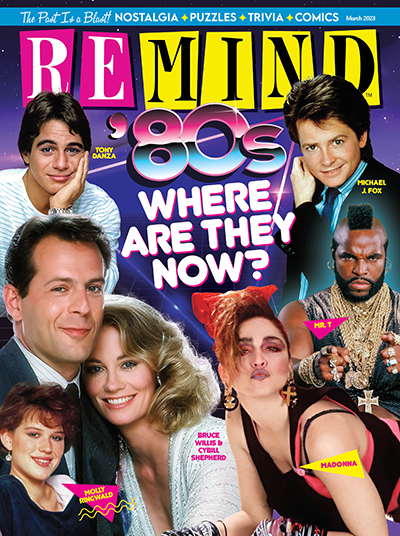 March 2023
Who can forget all the great TV shows, movies and music of the '80s? See what your favs are up to now!
Buy This Issue